10:00 Charles de Lauzirika was originally on Team Jack Episode Number 37 "Crave," the name of his first movie which had its world premiere in Montreal, where it got a huge reception. Won best first feature film. Positive Variety review. Now doing festival circuit and hopefully soon a distribution deal.
Trailer:
14:20 Charles going to London soon to see Skyfall where he can see it earlier than in the US. Charles produced the DVD for Die Another Day. Jack heard a rumor of a very positive review but that the movie is three hours long (!) Potentially the longest Bond movie, Casino Royale was previously the longest Bond movie.
Skyfall UK poster. Love!:
18:48 This episode feels weird because Jack just watched two hours of footage that he can't talk about yet. Prometheus discussion-"went pretty crazy for it right off the bat." Cried...twice in the movie. *TJ Caution* This episode is FULL of spoilers if you have not seen Prometheus. Release of this podcast coincides with release of DVD/Blu-Ray which Charles helped put together.
22:45 Charles discusses different aspects of the DVD, what he designed. For example he wrote journal entries for Weyland to go with movie clips. More immersed in this project than any he has been involved with in a long time, since Blade Runner (his favorite film of all time). Charlie is Ridley Scott's DVD producer-has also worked with Michael Bay and Tony Scott, among others. Has been doing it for 14 years.
Charles with director David Lynch:
27:50 Charles tries to document as much as he can for the DVD, shoots every angle he can/behind the scenes footage because even if you might not need it now you might later. Eleven hours of content on the Prometheus DVD, not including the movie.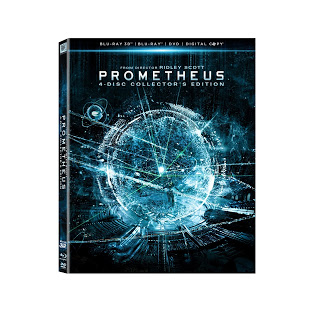 29:30 Matt asks who makes the final call on what movies to pack features on to? Many new releases only have like 15 minutes of special features, used to be a lot more common. Ultimately the studio has the call but certain directors have their own opinions too. Spielberg and Scorsese never do commentaries, want only certain types of content and sometimes none.
32:21 Scope of coverage for Prometheus was determined early on but Charles went way beyond what was called for, over delivered, he "ate it a bit for this one." Felt like this movie was worth it and there was a need for meticulous documentation. Once you lose it it is gone forever.
Some Prometheus concept art:
34:21 The making of Prometheus changed in real time, it started as a true "Alien prequel" and then changed into something different, constantly evolved and was controversial when released. Fan reaction was intense and that was addressed in the DVD as a result. "Post release phenomenon"-people were either passionately against or passionately for the movie.
37:00 Comparisons of The Avengers and Prometheus theater experience. Avengers is entertaining but more of a passive experience, nothing to argue about. Matt says debate about movie is less common these days. Picking movies apart is more common.
40:45 Dark Knight Rises discussion. Plot holes.
41:49 Blade Runner discussion. "Legacy of a movie." Were people into it at the time it came out? Jack wasn't-discussion of his childhood favorites. All about Star Trek 2 as a kid!
46:00 TV Shows/Movies that are underdogs sometimes cause people to care more about them? Avatar is the opposite. "Unimpeachable movies." The Dark Knight qualifies?
48:00 Back to Prometheus. Charles has crazy access from Ridley Scott. Incredibly detail oriented. Massive documentary included. The DVD/Blu-Ray four disc 3D Collectors edition contains ALL of the content/extras. Charles' Prometheus t-shirt he wore to the podcast: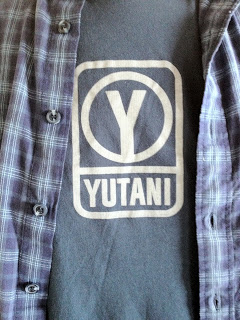 53:30 Another DVD edition of Blade Runner is coming out October 23, 2012. Contains new photo book and Concept Spinner Car-Jack is ALL over it. Charles was not involved with this edition/release.
55:07 Charles provides description of Prometheus DVD/Blu-Ray release. Charles really loves the Lindelof commentary because he basically says: "If you love the film it's because of Ridley Scott, if you hate the film it's because of me." Ridley goes very thematic in his commentary. Deleted scenes. Pods/extras. Loves the engineer language stuff. Crossover between Alien and Prometheus universes explained.
1:00:50 Easter eggs? Charles is beyond those, none in Prometheus set. Description of DVD/Blu-Ray online:
1:05:51 Ridley Scott very interested in mortality, all of this stuff for the DVD will live forever. Meticulous documenting of Ridley Scott's life work. Preservation, legacy and caretaking. But at what point do we de-mystify the art? Reason Spielberg doesn't do commentaries? Commentaries generally recorded before the movie is even done.
1:12:00 Jack says Bill Condon is pretty much done with talking about the movie after doing press. He's not really interested in drilling really deep into the the process. He doesn't like to see his old scripts all marked up, he's horrified by that/wouldn't want anyone to see it. Charles is having press experiences now with his own movie Crave and struggles with how to make repeat questions interesting. Great review:
http://www.wizardworlddigital.
Charles doing press for Crave:
1:14:00 Will Charles do his own extras for Crave? No. If there's a demand in the future he has it covered, on a shelf at his house. It would be nice if five years down the line there could be some surprises for fans. Loves when that happens with older movies.
1:18:50 The Shoah Foundation/Project, Spielberg's holocaust survivor documentation. Shoot interviews for the archives-cross indexed/referenced. Massive undertaking.
Take that system and apply it to movies? Massive Hollywood mega computer?
1:22:30 Reminds Jack of a moment in Prometheus? Geeky Alien discussion ensues.
Awesome vintage Alien merch circa 1979:
1:24:40 Best work Charles did with Tony Scott? Involvement on the DVD side. Only ever shot footage on the set of Domino.
Top Gun and Man on Fire are pretty good DVD special editions of his movies.
Tony on the sets of Top Gun and Domino:
1:26:15 Discussion of Kevin Costner 1990 movie "Revenge." Charles did a featurette at the request of Tony called "Obsession, the Sex and Violence of Revenge." Tony sent Charles a thank you note for it which he found recently after his death. Charles went to Costner's house to film. They got to talk about movies, had a great time.
1:28:56 Tony wasn't super into extras, Ridley "gets it" and knows it is all a part of it. Tony was totally fixated on the film. Ridley has said there will be no further cuts on Prometheus. Discusses scenes that may have been cool to film and are great but don't work in the final cut of the movie.
Ridley Scott and his late brother Tony:
1:32:00 Various Prometheus scenes discussed. Scenes he would have liked to have in the final movie but are in the extras/deleted scenes. More Hammerpede backstory?
1:34:40 Charles feels the cut released in theaters was the best one he had seen. Some people want everything "spoon fed to them." Jack feels that people wanted Alien prequel from Ridley Scott and instead they got Prometheus, feel like their expectations were not met. Charles says that people were warned it was NOT an alien prequel and still were not happy.
1:40:43 Influence of television and conglomeratization of the movie studios. Every bit of mystery, magic and grandeur is beaten out of the movie by tying up every loose end etc. Discussion of Ridley as a director. Ridley wanted to tell a story, independent of it being an "Alien movie."
1:47:20 Thanks to Charles! Check out
!
OUT!